Open every day. (updated Sep. 7, 2023)

What's in season?
EGGS, BEEF, CHICKENS, HONEY, FIREWOOD, GARLIC, SEASONAL VEGGIES

Please read this page first before you come or call. We are just a small local family farm and not as big as the Google listing suggests. This web page is being kept current. Please check in regularly and sign up to our mailing list for priority announcements.
EGGS: Available daily fresh. $10.00 per 1 dozen. They are Free Range and not washed. (The bloom is intact). Please get them is in the afternoon after 2pm when we put the day's lay out, but we have them out all day while supplies last. Please also read our FAQ page.

BEEF (grass fed and grass finished - no corn, no silage). We have lots of prime BBQ steaks, stewing beef, roasting steaks, slow cooker meats, ground beef, soup bones, lean ground meat, and roasts. We sell individual items. All beef is frozen.

CHICKENS (frozen whole roasters). Raised free range outdoors.The meat is firmer and tastier than barn raised chickens. There are soon all sold out for the season.

HONEY - unpasteurized honey ready to eat. Very flavourful.
GARLIC - grown this year. Large white bulbs.
VEGGIES - We have some veggies in small amounts. Now is time for zucchini and cucumbers. If you are here, you may be lucky to get some.

FIREWOOD: Hardwood from our farm. Sold in bags for your fireplace.

HOURS: Every day from 2 pm -6 pm, or catch us by chance.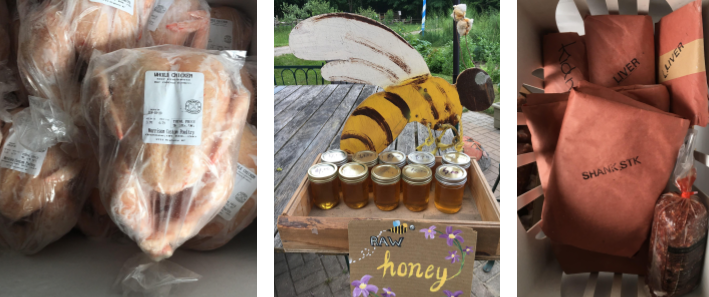 What we DO NOT RAISE, SELL, or PRODUCE
(Please read this section first and check out our FAQ page to spare you a disappointing phone call or email. We know, it seems kinda weird for a business to list what they don't sell, but Google makes us look like we are the biggest local place for everything "farm" in the GTA and we are getting swamped with inquiries 24/7 from all over the world!!)

No live chickens, No Goats, No Lamb, No Sheep, No Veal, No Pork, No Ducks, No Geese, No Milk, No Cheese. Therefore we don't have duck eggs, goose eggs, or turkey eggs. We don't have blue eggs from Araucana hens.


No individual chicken or turkey parts - no thighs, no breasts, etc. No sausages, no meat pies. We are NOT A BUTCHER STORE.

No Regular Hours but most days we are here. We are a working farm, not a retail store. And please don't call us late at night. We need to sleep sometimes. We are not 24/7 online business.


No Children's entertainment, No petting zoo. No hay rides, No Picnic area, No public washrooms, etc.
_______________________________________________________________

We Produce Grass-Fed Beef and FREE-Range Eggs
... All Year Round.

Seasonally we raise Free Range Meat Chickens and Turkeys, and occasionally some vegetables.
Locally Grown on our Family Farm in Vandorf

Naturally Raised in a SMALL Herd or Flock

No Mass Production

FREE-RANGE means: The animals are spending most days outdoors with lots of space

No Chemicals, No Hormones, No Antibiotics

Calves nurse on mother cows

Meat is provincially inspected
EGGS DAILY FRESH - Self Serve at Farm during daylight hours

No beef order too Small - buy individual steaks/roasts

For
Grass Fed Beef information please contact us
or call us at 905-751-1323 for orders. We are a working farm without a receptionist. Please leave us a message.
____________________________________________________________
Diversity Farms, 2572 Vandorf Road, Stouffville, ON, Canada. 905-751-1323
Hours: We're a farm and live and work the farm here. We're not a retail store with sales staff. Eggs are best picked up in the afternoon, catch us by chance or call ahead... Chances are good we'll be here.

For meat sales (beef, chicken, turkey) please always ask for help or call ahead.
One Block North of Bloomington Ave. between Warden and Woodbine. For a map click here.
____________________________________________________________
What shall you do if there are no eggs
I can understand your dilemma. We are a small farm who started just selling to our immediate neighbors. Our number of eggs is limited to less than 100 per day - that's 8 dozen or so. Because of Google we seem to be visible to everyone in Toronto, I have even people coming to us from Mississauga and downtown. Some people, especially those who come from far, then want to buy 10 dozen eggs... and leave disappointed. Getting more chickens and starting a large scale egg production defeats what we are doing. The large guys then sell in the grocery stores with eggs that were graded and licensed by the egg marketing board. There is huge bureaucracy in mass production and the freshness of the eggs, the environment and the chickens suffer. I'm sure you have checked it out on the internet. Doing it small scale, like we do is work without profit (Can't hire a sales person at $14 per hour to sell $50 of eggs in 12 hours). That's why we do the honor system. We have seen many people start up doing what we do, but after they did it for a number of seasons, they give up. It costs time, cleaning out the barns is not fun, coyotes, hawks, foxes, eat your chickens, you have to be there every day... forget about a trip to a cottage on the weekend etc. Our farming model is not easily repeated and we do it only because we feel we improve our world and our neighborhood by doing what we do. We are happy when we see the smiles in the childrens' face and their parents telling us they would never buy eggs from the grocery store again... but sorry, you'd go hungry, you'll need to buy grocery store eggs at least from time to time. Sometimes clients want to reserve, make a special deal with us etc. That would be excluding other people. That's not diversified, not inclusive, not democratic. That's why we operate by the first-come-first-serve principle. You need luck and I tell people from Mississauga to buy from a local store. Don't drive one hour to live "natural". What can you do to increase your chances to get eggs?Come when it's convenient and when you are already in the area. Your luck will be greater on bad weather days in the middle of the week, when nobody comes out for a "drive".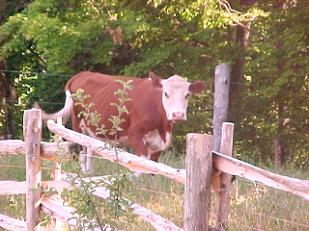 We have only a small herd of cattle. They graze outdoors all year round.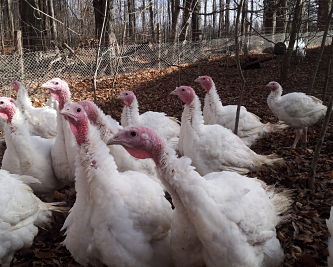 FREE-Range Turkeys and Chickens produce a firmer and darker meat. We never use hormones, antibiotics or anything unnatural. Turkeys are fresh for Christmas by pre-order only. TURKEYS will be for sale freshly butchered on December 22, 2022. Contact us to reserve yours. $20 deposit required. Limited quantity. We will erase this message from the website when the turkeys are all reserved.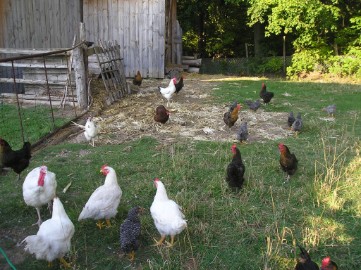 Our Chickens and Turkeys are FREE-Range. They have access to go outdoors any time of the year. We feed them commercial grain mix and whatever they can forage outside.